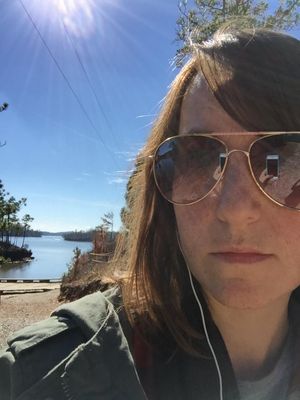 January 16, 2016....I was sitting along the shore at Lake Martin, smack in the middle of a retreat, enjoying some much needed alone time. I was journaling and listening to Gungor's newest album at the time, One Wild Life: Soul, which I had never listened to before. The song One Wild Life came on and I was completely overcome:
These are the days we've been given
What will you do with each of them
What will you do with your one wild life
Brave the rise and fall
Go on and feel it all
I wanna feel it all
Love the rise and fall
Go on and feel it all
I wanna feel it all
Those words...All the fears I had tried so hard to run away from...all the insecurities and dangers I was so terrified of...I didn't wanna run anymore. I wanted to let go. To be brave. To feel it all. To do something with the days I've been given. And I knew right then that meant I needed to write. To sing the songs that were already forming deep down in my bones. To let go and become available to the inspiration that was probably only going to wait around for me for so long. To be who I was created to be. Instead of running away, I wanted to run straight into all of it. And I wept...which, if you know me at all, isn't ALL that surprising! 
Walking away from the shore that day, I was a different person. And yet, looking back, I think I had finally accepted who I was all along. No more shoving it down. No more running away. No more feeling like I'm not good enough and that what I have to say doesn't matter. No more letting comparison steal my voice. I had no idea what all of this meant in a broader picture. I just knew I had to take the first step. I had to start. And where it led didn't even matter to me. I was just going to show up.
And so I did. I showed up. And since that day life has been absolutely crazy...in the good kind of way! More to come about that in next week's post. But for now, I'll just say that I was running full force straight into all that I had spent my whole life running away from...but I was not afraid.
If you haven't already, PLEASE click HERE to visit my Kickstarter and consider pledging!! 
We've only got 17 DAYS left to meet our goal of $12,000 or this album DOES NOT HAPPEN! 
I'm counting on YOUR support! You can also help by sharing the link with all of your people!
It's gonna take a village to get this done! I hope you'll join me and invite others too!