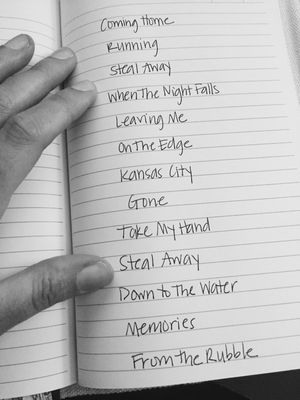 Since that day in January 2016, I've been plummeting the depths of all the parts of me I had cut off and closed up. It has been a road of self discovery, amazement, mystery, creation...doing all of the things that I have neglected for years and years and years. It is really miraculous to me when I stop and think about it. The layers of myself that I have uncovered. The wonder in every small detail that I had never noticed before. The moments in between that I've come to treasure. I am truly in awe of this path I am on and the things I have found along the way.
I decided to set up some concrete practices in my life. Things like writing, practicing, reading, exercising, meditating, journaling, encouraging others. I called this my rhythm of life. Each practice had different parameters that helped me carry them out. Getting ready to write this blog, I was looking back over my journal since January 2016. I had completely forgotten (which, if you know me, isn't all that surprising. I definitely count on my friend, Lori, to recall things we did as teenagers because I don't remember half of them!) that on May 2, 2016 I began a one year challenge to write something every day. Did I actually "successfully" accomplish that? Well, no. Not if success equals writing something every day. BUT, my goal was that one year later, I would have 12 fully completed songs. Well...I had WAY more than that! In fact, by May 2, 2017, I had 12 songs that I was actually proud of and would want to put on an album, not to mention the dozens of other fully completed ones that didn't make the cut. So did I flawlessly check off every box, every day in this new rhythm of life? Absolutely not, but I was trying and I was being changed because of it.
All of these practices were opening my eyes to the creativity, the inspiration, that was just waiting to be brought to life. And I was making myself available to that through reading, meditating, writing, all of the above. Man...I could tell you story after story of how songs were born out of this availability and openness. Story after story of how things were weaving themselves together in ways that I could have never imagined. It blows me away to think about it. Literally makes me weep...again, not surprising! But it's true! I am utterly floored.
And this is what's even more incredible to me - not only was I being transformed by this new rhythm of life...these practices that I was trying my best to participate in...but I was also being transformed by the songs that were coming out of me. The songs that were born because I was practicing these rhythms. What?! That's insane! Believe me...I KNOW! It is ridiculous and mysterious and beautiful and overwhelming! And that...that right there is why these songs are SO VERY close to my heart. They are coming out of me from I don't even know where and they are changing me deep down in my bones.
It's a vulnerable place to sit. Holding this creation out for the world to see. This creation that has so affected me...this creation that has come out of me. I'm not going to lie and say it isn't scary. It is TERRIFYING....on MULTIPLE levels! But I have no question that it's what I need to do. It's what I WANT to do. To hold it out...to you. To let you hear the brokenness, the raw honesty, the chaos, the joy, the hope, the love, the gratitude. Because, well I don't know, I could be wrong, but...I don't think it was created just for me.
So....we're 9 days away....count em....NINE...from August 9. At 8:00am that day this campaign will be over. Will you support me? Will you back this project? The project that will put these songs out into the world? The project that is the culmination of the journey I've been on these last 15 years? If you haven't already, please click HERE and make your pledge right now! Every second counts. Every dollar counts. Every share counts.
I cannot do this without you! I hope you'll join me in this creation!