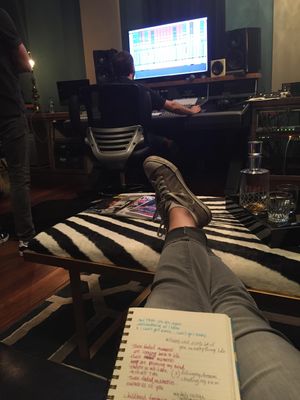 This is mostly what I've been doing in the studio...chilling and listening and letting the guys do what they do best!
And throwing my two cents (or maybe more) in when I need to of course!
YOU GUYS!!! I cannot even begin to tell you how ridiculously excited I am and how much FUN this last week in the studio has been!! We spent a couple of days getting down some scratch vocals and piano and guitar. And then the drummer, Tyler, came in for one session. He is INCREDIBLE and I love the feel he is giving these songs. Seriously...it's so amazing to watch these songs transform right in front of my eyes! And then the bass player, Jordan, came in for a session and laid down some sweet lines! (Is that what you say?! IDK...I'm not even gonna pretend that I know what I'm talking about! All I know is it sounded fantastic!) 
This week is going to be cuh-razy! We'll be in the studio every day finishing up drums and bass, getting electric started and finished, and starting some acoustic! I'm exhausted and energized just thinking about it! I'll try to get another blog post in this week sharing some more of what's going on. But, if you aren't already, follow me on Instagram, Twitter, and Facebook! I'll definitely be posting updates there!
NEVER in my wildest imaginings would I have guessed 2 years ago that I would be sitting here today, writing a blog on my website, talking about recording an album full of all new stuff I had written. I am not exaggerating when I say that would have never even crossed my mind as a part of my future! And yet, here I sit...thanks especially to so many of you who have supported me along the way. It is SO surreal! I am BEYOND grateful! And I'm just having so much freaking fun! So thank you for making this possible! Thank you for riding this crazy ride with me! 
Stay tuned! More to come soon!!