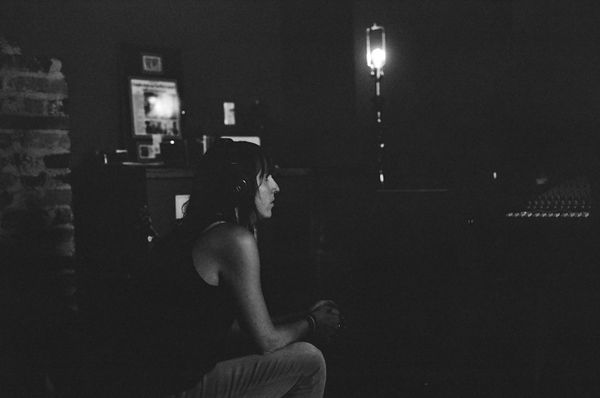 Listening intently in the studio
Pic courtesy of Wade Allen
 
GUYS...I can't believe how close we are to making this album a reality!! Literally days away!!! We're in the final mixing stages (which is a much more difficult process than I ever would have thought) and then it's on to mastering. Then we'll send it off to make some fantastically beautiful CDs thanks to the ridiculously talented Ashley Coxwell. And THEN....it will arrive in your email, mailbox, or BOTH!! Can you believe it?!
I have been pouring everything I have into recording this album these last couple of months. I've been so busy that I haven't even had the time or energy to keep you updated here! Which I'm terribly sorry about. I really wanted to keep you up-to-date here on the blog but I think I bit off more than I could chew with that notion. Hopefully you've been able to keep up with the process through my Instagram, Twitter, or Facebook. If not, feel free to go check out my pages and see some fun shots and videos from the studio!
Pouring everything I have into this has really been challenging at times. I knew that recording this album would be hard...late nights, long days, lots of time away from my family, etc....but I had NO IDEA that the difficultly would run so deep! I've realized that I've had to be extremely vulnerable in lots of different ways through this whole process. Whether it was getting deep down into my bones to draw out the lyrics while recording the vocals, or the process of figuring out what I do and don't like and then TELLING people (who might be doing those things that I don't like!), or having to ask for LOTS of help from friends while I was in the studio and away from my family. Woah...just thinking about all of that has my stomach in knots! It was SO terrifying and difficult at times. But, holy mess was it rewarding!!! I have learned so much about myself through all of this. I've learned that I do have opinions about things and that I CAN voice those opinions (even though I'd prefer not to risk it). I've learned that the lyrics to these songs run deeper in me than I even realized...they are literally a part of my very soul (which is a little terrifying to lay out for everyone to see). I've learned that it's hard for me to ask for help (because I've always thought I shouldn't need it). And...on a slightly lighter note...I've learned that sipping on some whiskey really helps relax the vocal cords (and is now my preferred drink of choice)!
Suffice it to say, this whole experience has been amazing. I can't put into words the gratitude I feel for being given this opportunity! And I feel so lucky to have been surrounded by such talented musicians! I mean....I can't wait for you to hear how great they are! This has been an incredible journey and I can't wait to share it with you!